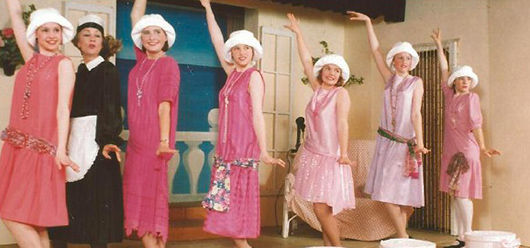 The Village Players Rushlake Green is an amateur dramatic society that stages several productions every year, including dramas, comedies, musicals and pantomimes. The speed with which tickets generally sell out is a testimony to the high standards of entertainment achieved. The group is always keen to attract new members. So if you have a particular skill, or you're just keen to have a go, you're very welcome to join. Involvement could be acting, singing, assisting with stage design or construction, providing technical support or helping out back-stage or front of house.
The VIllage Players Rushlake Green has been granted CIO ( Charitable Incorporated Organisation) status by the Charity Commission. Its Registered Charity Number is 1184546

Keeping in Touch
Our plans for new productions in 2020 have inevitably been affected by the Covid Crisis with the result that the play 'Way Upstream' by Alan Ayckbourn will now be staged on the Green in June 2021, while the musical 'The Sound of Music' will be deferred until 2022.   Please watch the website for further updates.
Comfort and Joy
Our sell-out production of " Comfort and Joy" by Mike Harding was a huge success with many considering it to be one of our best productions to date. We are very grateful to our Director, Pam Edmonds, and to all of the cast and crew who helped make this such a positive event.
The Happiest Days of Your Life/Relative Values
Our previous two productions – "The Happiest Days of Your Life"  and "Relative Values" were also amongst our very best events. Once again we are grateful to our directors, Heather Young and Helen Halliday,  and to all of the talented cast and crew who helped to make these two productions so successful.
AGM
As a result of the Covid Pandemic we have had to cancel our AGM this year. However a copy of the Trustees Report & Accounts, which have been submitted to the Charity Commission,  can be seen by clicking on the link below. 

As this is our first reporting period since being granted charity status, we are required to start the financial period from the date we became a Charitable Incorporated Organisation ( CIO ) . As a result, the attached accounts cover a 13 month period . In future, the accounts will revert to the 12 month period of 1st September to 31st August of the following year.
As this would have been the first AGM since the CIO was established, there is no obligation for any of the Trustees to retire by rotation on this occasion. No Trustees or Committee members have asked to retire and therefore until the next AGM the current Trustees and committee members will remain in office.
If you have any questions and/or feedback then do please address them to either:
Annie Walker (Chair): anniewalker@btinternet.com
New Data Regulations
As many of you will know new data regulations were introduced in 2018, which require organisations to let their members know what information they hold about them and how they use it. Please click on the Privacy Policy link in the footer below to see our approach to these new requirements.