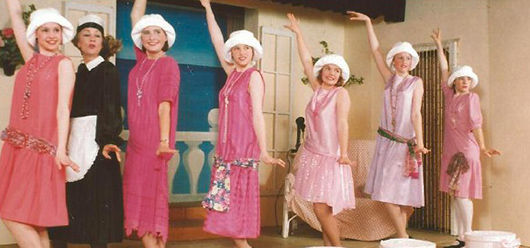 The Village Players Rushlake Green is an amateur dramatic society that stages several productions every year, including dramas, comedies, musicals and pantomimes. The speed with which tickets generally sell out is a testimony to the high standards of entertainment achieved. The group is always keen to attract new members. So if you have a particular skill, or you're just keen to have a go, you're very welcome to join. Involvement could be acting, singing, assisting with stage design or construction, providing technical support or helping out back-stage or front of house.

Stop Press
Next Production
Our next cafe theatre production, a farce, called "The Happiest Days of Your Life", will be performed from Wednesday 15th to Saturday 18th May 2019 at the Dunn VIllage Hall, and will be directed by Heather Young. Please see the next production page of the website for further information.
Relative Values
Our recent cafe theatre production, "Relative Values ", was a great success with large audiences enjoying this comedy of manners by Noel Coward. We are grateful to our Director, Helen Halliday, and to all of the cast and crew who helped make this production such a success. Please see our News Page of the website for more information.
Angie Trew Awards 2017/18
The Angie Trew Awards for "The most deserving actor " and " The person who has given the greatest input in productions"  over the last year were presented  at our AGM in October. Please see the News Page of the website for further details.
AGM
Our 2018 AGM took place at the Dunn Village Hall on Thursday 18th October. At the AGM the Village Players Committee and Officers were confirmed and reports given on our healthy financial position and a very successful year of productions. Most importantly all members present endorsed the proposal that the Village Players status should change to be a Charitable Incorporated Organisation. Please see the News Page of the website for further information
New Data Regulations
As many of you will know new data regulations were introduced recently, which require organisations to let their members know what information they hold about them and how they use it. Please click on the Privacy Policy link in the footer below to see our approach to these new requirements.